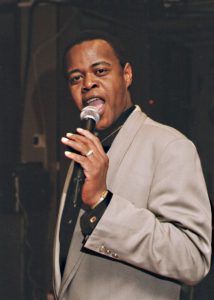 Julino Willem Anthony was born in the village of Rincon on the Caribbean island of Bonaire on 23 February 1956. His love for the music of Bonaire is rooted in his memories of older people in his community making music on self-made stringed instruments made from metal cooking oil cans known locally as blek'i zeta dushi Tralala.
Anthony attended the local Bonaire primary school and then the Lagere Technische School (Lower Technical School). As a young boy scout his talent for singing and acting was discovered and he started to sing in a school band and the local church choir.
In the early 1970's Anthony made his début in Bonaire with the band T.N.T. Power. His début in Curaçao was at the Voz di Oro Korsou in 1974. In 1977 the Antillean daily newspaper EXTRA named him the Most Promising Artist of the Netherlands Antilles. He won the singing competition Festival Voz y Cancion Korsou in 1983 and has been a finalist in several talent-scouting competitions, including the Festival Internacional de la Canción y de la Voz de Puerto Rico.
On leaving school, Anthony started his career at Shell Curaçao NV. In addition to his regular job, Anthony also works as an actor in Dutch television productions. In 1979 he played the part of Marco in the Dutch television series 'Duel In De Diepte' and has had many other walk-on parts.
In 1984, Anthony was declared Distinguish Guest of Puerto Rico by the State Department of San Juan, Puerto Rico.
Recordings
In 1992 Anthony produced his first single 'A helping hand' followed in 1998 with the single 'Music from Bonaire', featuring traditional songs of the Netherlands Antilles. He has produced a number of music recordings in his own name, paying particular attention to songs written in Papiamento by leading Antillean composers that had never been recorded or have been forgotten.
Writings
In the 1970's, after his move to Curaçao, Anthony started to write short poems, written in Papiamento. These are now published in a book called 'SOBRÁ'.
His book 'Musika Maestro' was published in 2002, giving a background to his artistic experiences and incorporating the history of music on the islands of Bonaire, Curaçao and Aruba, particularly looking at the inspiration behind the creation of some songs. The book was translated into English in 2015.
In May 2016, Anthony's book 'Why Discrimination?: The agony of an immigrant, who just wanted to be kind and do his job' was published. It is his own story based on the problems he faced as an immigrant in the Netherlands. The first had a number of factors in his opinion: he was black, creative, intelligent and opinionated. The second problem was that he wanted to do his job and advance his career at the Amsterdam municipal public transport company, known as the GVB, but although he had repeated success with the exams he took, a permanent position in official service of the municipality of Amsterdam was never offered to him.